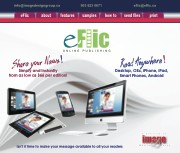 info@imagedesigngroup.ca 905 623 0671 eflic@eflic.ca
eFlic about features samples how to send files print
ONLINE PUBLISHING
Simply and Instantly Desktop, OSx, iPhone, iPad, from as low as $66 per edition! Smart Phones, Android
a Division of
Isn't it time to make your message available to all your readers
Dnp
es
ig
g
rou
Share your News !
Read Anywhere !